Dental implant-supported dentures are a remarkable option that combines the stability of dental implants with the convenience of dentures. Furthermore, if you're considering this transformative treatment, here's a comprehensive guide to the 7 essential steps that lead to a confident smile with dental implant-supported dentures.
The Process of Getting a Dental Implant-Supported Denture
A beautiful smile can brighten a room, but it may seem like an unattainable dream for individuals missing several or all of their teeth.
Fortunately, advancements in dental technology have opened the path for a game-changing solution: dental implant-supported dentures. Moreover, implant-supported dentures offer superior stability, comfort, and usefulness, allowing patients to eat and smile without worry.
Join us as we guide you through the amazing process of acquiring a dental implant-supported denture at ORIS Dental Clinics, where your dream smile becomes a reality.
The 7 Steps to Getting a Dental Implant-Supported Denture
Step 1: Initial Consultation
The process begins with an initial consultation with one of our trained and compassionate dental professionals at ORIS Dental Clinics.
During this crucial phase, the dental professional will evaluate your oral health, take X-rays, and measure your bone density. Moreover, they do this to determine if dental implants are your best treatment option.
Your dentist will carefully listen to your concerns and preferences, answering questions and customizing your treatment plan.
Step 2: Personalized Treatment Plan
Once the dentist determines you are a good candidate for dental implants, the dental professional will develop a customized treatment plan.
This plan will include the number of implants needed, your preferred denture type (removable or fixed), and the procedure's timeline.
Step 3: Dental Implant Placement
With the treatment plan, the following step is to place the dental implants. The dental professional precisely implants small titanium posts into the jawbone during this surgical procedure. These implants serve as strong anchors for the denture, offering unmatched stability and avoiding bone loss in the jaw.
Even though having surgery may seem frightening, ORIS Dental Clinics places a high priority on patient safety and comfort. Our dentists use cutting-edge technology, including 3D imaging, to ensure perfect implant placement with minimal discomfort and faster healing times.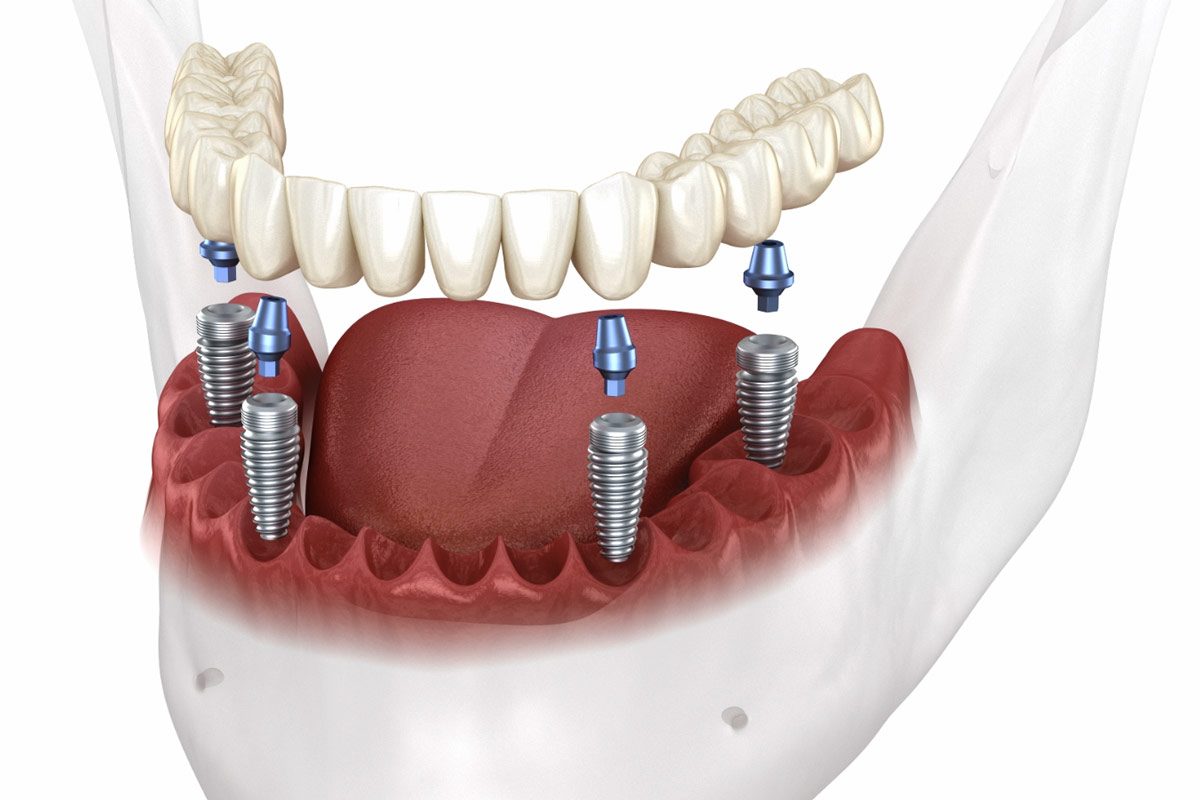 Step 4: Healing and Osseointegration
After the implantation of implants, osseointegration, a period of healing, is necessary for the implants to fuse with the jawbone.
This critical stage may take many months, but it is essential for the long-term success of your dental implant-supported denture. You may need temporary dentures to ensure you can eat and speak comfortably during this time.
Step 5: Creating Your Denture
After the implants have fused with the jawbone, our experienced dental team will take impressions of your mouth to create a custom denture. They design each denture meticulously to complement your facial features, resulting in a natural and beautiful smile that enhances your appearance.
The day finally arrives when your new dental implant-supported denture is ready to be placed. Our trained dental professionals will carefully attach the denture to the implants, ensuring a flawless fit and comfortable bite. Your new smile will feel so natural and relaxed!
Step 7: Post-Treatment Care
Our dedication to your smile extends beyond the final placement at ORIS Dental Clinics. Our dental professionals will offer detailed post-treatment care instructions to preserve the longevity and health of your dental implants and denture. Regular check-ups and hygiene appointments are necessary to evaluate your dental health and resolve any issues.
Beginning the journey to a confident smile with dental implant-supported dentures is an empowering experience. Our devoted professionals can assist you at every stage, from the initial consultation to the final placement. With a beautiful, functional smile that lasts a lifetime, say goodbye to slipping dentures and hello to eating, laughing, and living life to the fullest.
Are you willing to take the first step toward achieving your ideal smile? Please call us at ORIS Dental Clinics in Richmond Hill, Ontario, today and let us change your life, one smile at a time.